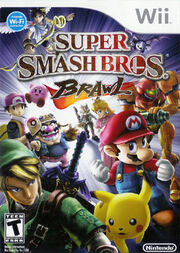 S'
uper Smash Bros. Brawl
, known in 
Japan
 as 
Dairantō Smash Brothers X
(大乱闘スマッシュブラザーズX

?

, lit. "Great Melee Smash Brothers X")
, often abbreviated as 
SSBB
 or simply as 
Brawl
, is the third installment in the 
Super Smash Bros. series
 of 
crossover
fighting games
Common on Warflame, Warflame Users "brawl" with different characters and battle in SSBB most of the time, famous Brawlers are Garioshi and NextGen_TB.
*For editing later*
Edit
Because I'm too lazy to think of anything else.
Ad blocker interference detected!
Wikia is a free-to-use site that makes money from advertising. We have a modified experience for viewers using ad blockers

Wikia is not accessible if you've made further modifications. Remove the custom ad blocker rule(s) and the page will load as expected.