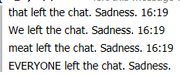 Was a short lived meme from Teh Warflamer's Chatting Club Chatzy Room, made by Dark Throwback.
It was made during the time that 30+ users were online on the same chatroom, which can also be considered a meme, the censors were made to not show the things that the users did not want Warflamer's and others to see.
Ad blocker interference detected!
Wikia is a free-to-use site that makes money from advertising. We have a modified experience for viewers using ad blockers

Wikia is not accessible if you've made further modifications. Remove the custom ad blocker rule(s) and the page will load as expected.